Soil-Away Expands Air Duct Cleaning Business
Soil-Away has recently expanded their air duct cleaning operation. What started as a small part of their operation in 2012, has expanded into one of the company's largest services. "We have doubled our air duct cleaning business year over year since we started it," explains Soil-Away founder, Jack Solloway. "We applied our company emphasis on quality and value to duct cleaning and it has just boomed."  
It has "boomed" to the point that Soil-Away needed to purchase a new truck solely dedicated to air duct cleaning. The vehicle is outfitted with all the necessary equipment for residential and small commercial jobs. It also has the capacity to haul a storage trailer when additional supplies are needed for larger commercial air duct cleaning projects.
A growing public awareness and sensitivity to indoor air quality (IAQ) has helped Soil-Away's air duct cleaning business expand as well. "More people are becoming mindful of the contaminants and dust that circulate through their home's HVAC ductwork," says Soil-Away office manager, Leslie Webb. Periodic cleaning by a professional helps mitigation that situation. "It is also a plus that we are NADCA certified," says Webb. "It brings a lot of credibility to our service."
Soil-Away clients really appreciate the outcome of air duct cleaning. Results of all jobs are documented with before and after pictures. These pictures are powerful as they show how effective the air duct cleaning process is.
"Ultimately our goal is to help people obtain clean and healthy homes and businesses," summarizes Solloway. "Whether it is cleaning up after a flood, remediating mold or cleaning carpets, we want our clients to have the best indoor environment possible." It would seem that is why air duct cleaning has fallen so well in line with the Soil-Away mission.
Property owners or managers interested in learning more about air duct cleaning are encouraged to contact the Soil-Away office at 603-641-6555. Soil-Away services south/central New Hampshire and northeastern Massachusetts.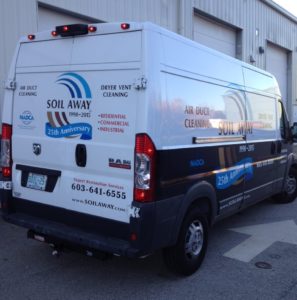 Tags: Air Duct Cleaning, business expansion, company growth, Duct and vent cleaning, duct cleaning, NADCA, news, professional duct cleaner