Water and Flood Damage Cleanup and Restoration
---
What is it worth to have good indoor air quality (IAQ)? The American Academy of Allergists have published statistics which state that 50% of all illnesses are either caused or aggravated by polluted indoor air (source: www.acaai.org). The U.S. EPA states that "the air inside your home or office is more polluted than the air outside." Soil-Away can efficiently and effectively remove harmful dust particles, mold, fungi, pet dander, bacteria, and other contaminates known to cause or exacerbate health problems.
HVAC systems run more efficiently and thus save energy if they are cleaned and filters replaced on a regular basis.
Your HVAC system should be cleaned on a regular basis (every 2-3 years) or more frequently if:
Pets who shed are present
After home remodeling
If there has been or are smokers in the home
Residents with respiratory issues such as asthma
If there has been some sort of contamination of the system or home due to water damage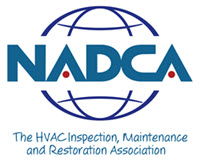 Soil-Away cleans your HVAC system the right way via industry NADCA (www.nadca.com) standards. We set a powerful negative air scrubber system with a HEPA filter and use agitation to safely and effectively remove harmful particulates, mold, dander, hair, dust, construction debris etc.
Importance of NADCA Certification
NADCA is a trade association comprised of about 1,000 companies in the HVAC inspection, maintenance and restoration industry who have signed the NADCA Code of Ethics, and they have also invested time and resources into industry related training and education.
Hiring a NADCA member provides consumers with an added level of security, since members possess general liability insurance, and have at least one person on staff that is trained and certified. NADCA requires that all members have at least one certified Air Systems Cleaning Specialist (ASCS) on staff, and they must clean and restore your heating and cooling system in accordance with NADCA standards and guidelines.
Dryer Vent Cleaning:
What is the cost of peace of mind? Dryer vent maintenance is a simple cost effective way to save energy and prevent the very real danger of fire. According to FEMA "failure to clean" is the leading factor contributing to clothes dryer fires in residential buildings.
Fire departments and insurance companies recommend dryer vent cleaning at least once per year. Some municipalities and some insurance companies are now requiring this maintenance on an annual basis.
Call today!  
(603) 641-6555
A word from our customers
"My dealings with Soil-Away were most pleasant, professional and satisfying from beginning to end. A definite super A+ rating!!!"
Frederick H.
Concord, NH
For more information or an estimate: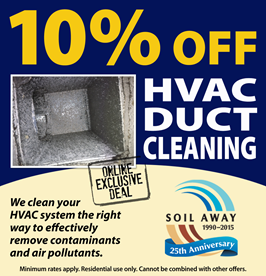 24 Hour Emergency Services
(603) 641-6555