Water and Flood Damage Cleanup and Restoration
---
Soil-Away Cleaning and Restoration – Soft Goods Cleaning Services
Esporta Wash System – Cleaning Soft Goods!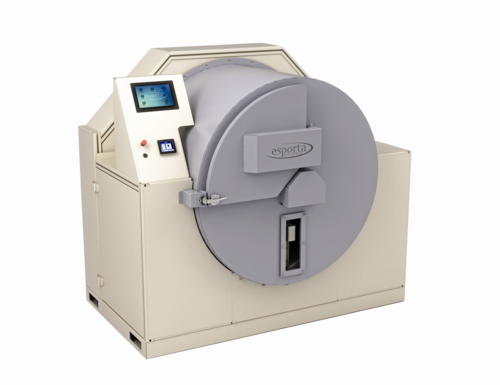 The Esporta iS4000 Wash System's unique patented technology sets the new standard for the restoration of textiles and soft contents. The Esporta technology:
Is five times more effective than traditional laundry with 35% less water consumption.
Outperforms traditional laundry technology by restoring 85% of the contents that traditionally would have been cashed out.
Capable of cleaning Category 1, 2 & 3 water, heavy smoke and soot damage to FOOD GRADE CLEAN.
Supports all cleaning claims with documented third party laboratory validation.
Restores over 90% of the soft contents in a house claim vs. less than 50% recovery using traditional washing technologies.
Removes bacteria, viruses, odor, soot, grime, mold, bio waste and mildew from clothing, bedding, comforters, pillows, sleeping bags, linens, rugs, leathers, jackets, suedes, furs, linens, stuffed animals, shoes, hats, belts, purses…and restores them to pre-loss condition and FOOD GRADE CLEAN.
Reduces the cost of cleaning significantly by eliminating the need for ozone treatment or hand cleaning.
Saves insurance companies millions in replacement costs by reducing the number of items that are cashed out.
And, it produces faster and simpler claim settlements, delighted policyholders, and reduces claim settlement costs.
Restoring  Contents – Restoring Lives
This revolutionary technology means that claims are settled in a faster, simpler and more cost effective and environmentally friendly fashion. Customers benefit from 24 hour turnaround time on emergency items, the recovery of sentimental items, a simpler and faster claim settlement and a satisfaction guarantee.
This results in delighted customers. And, insurance companies benefit from significantly reduced claim settlement costs. Esporta Certified Operators have saved insurance companies tens of millions of dollars in settlement costs on thousands of claims – equating to average savings of thousands of dollars per soft contents claim.
Totally Integrated Foolproof System
The Esporta Wash System is a closed system, meaning that the hardware (the machine), the detergents, and the software (the recipes) are fully integrated to provide the optimum washing solution for each application. And each recipe has been tested to ensure it meets or exceeds the efficacy and cleanliness targets.
Traditional washing applications typically purchase the machinery from one vendor, the detergents from another supplier, and are forced to develop their own washing recipes through trial and error. Testing is non-evident and the success of the wash limited to a physical assessment of stains and odors without scientific or laboratory considerations.
Rejuvenate Your Sports Gear!
Teams and training programs providing equipment to players want to ensure their gear is clean, fresh, and free from bacteria. The Esporta Wash System truly cleans and removes odours and we can prove it with bacterial swabs before and after the process has been completed. From hockey to football, equestrian activities to fencing, we provide effective cleaning, freshening and disinfection of virtually every piece of sports gear and equipment.
Emergency Personal Protective Equipment Cleaning Services!
Emergency services personnel including firefighters, police, military and EMS professionals all rely upon their protective gear or uniforms to keep them safe before, during and after the performance of their critical tasks. They deserve the highest level of cleaning, disinfecting and freshening of their protective gear and the Esporta Wash System provides the perfect solution.
We can successfully restore all sorts of items found around the house including the following:
Heavy Clothing (including Leather Jackets)
Snowmobile Clothing and Gear
Gloves
Backpacks
Helmets
Stuffed Animals
Camping Gear
Tents
Luggage and Duffle Bags
Life Jackets
Boots & Shoes
Scuba Gear
Mascot Costumes
Theatrical Costumes
Motorcycle Helmets & Gloves
Bullet-Proof Vests
Hearing Protection Gear
Industrial Gear
Hard Hats and Liners
Welding Helmets
24 Hour Emergency Services
(603) 641-6555