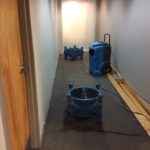 Property Repair After a Flood – Hampton, NH
A family in Hampton, NH enters their basement to find that it has been flooded with water.  The family is devastated from the water damage.  Many of their cherished belongings are submerged in the disgusting murky water and may never be the same if they aren't cleaned and dried as quickly as possible.  The family seeks property repair after a flood.
Common Sources of Flooding
A flood occurs when water overflows onto land that is normally dry.  This can happen in many different ways, such as:
River or stream overflow
Excessive rain
Ruptured dams
Large storms (hurricanes, nor'easters, etc…).
The nature of a flood can differ between the place and scenario.  Floods can take hours to days to develop, giving residents plenty of time to prepare and evacuate as needed.  Others can happen quickly and without notice, as it did with the family in Hampton, NH.
Effects of Flood Damage
Floods can be dangerous not only because of the force in which water enters into your home through cracks and holes in your basement walls, but because of the residue it leaves behind.  Floods can contaminate with mud, silt, and hazardous materials like sharp debris, pesticides, fuel, and sewage.  Mold can develop from moist areas impacted by water damage.  Residents in flooded areas may also face other problems such as losing power, a lack of clean drinking water, and exposure to harmful waterborne diseases.  Floods are both damaging and dangerous and, in many cases, residents will need to seek property repair after a flood.
Property Repairs from Flood Damage
Before properly restoring a home to its pre-flood state, one should contact a water repair specialist company to understand the precautions of flood damage that need to take place and whether professionals should be responsible for property repairs from flood damage.  Before attending to property repairs, one should evaluate the nature of the flood damage situation:
How high is the water level?
Is there any noticeable mold?
Is anything damaged?
Are there any moist areas?
Are there any holes or cracks in the walls where water can seep through?
Do I have insurance coverage?
Answering these basic questions will better assist the customer in seeking property repairs from flood damage.  After a flood, never should anyone attempt to clean out and repair their home on their own.  Without the proper attention from trained technicians, infected water can cause irritation, mold can develop, and even more damage can occur if one tries to clear wet areas without the correct process and proper equipment.  As quickly as you notice a flood, call a water repair specialist company for flood damage cleanup and property repair.  Flood damage is very serious and needs to be taken care of by trained professionals.
Call Soil-Away for Property Repair After a Flood
The family in Hampton, NH had neighbors who had experienced similar flooding from the swamps behind their backyards.  They recommended that the family should call Soil-Away Cleaning and Restoration Services as they had restored their piece of mind during flood damages.  Soil-Away is a locally owned business that offers 24-hour emergency services for water repairs, fire repairs, and mold remediation.  Their IICRC certified technicians have over 25 years of experience and come prepared to return your home and your belongings to their pre-flooded state.  If you need property repair after a flood, don't hesitate to call Soil-Away Cleaning and Restoration Services at (603) 641-6555.
By A. Phelps
Tags: Flood repairs, Hampton, IICRC, insurance claim, seacoast, Spring flooding, storm damage