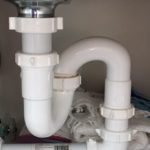 Plumbing Leak Water Damage – Bow, NH 03304
The March Madness basketball tournament is over! After all the celebrating an exciting first; or cheering up after a devastating loss (depending on the team you backed) the last thing you think about is plumbing leak water damage. But now that all the noise is over and your Bow, NH house is deathly quiet, it's a good time to listen to your house. Do you hear dripping or leaking? Leaking from a pipe can become costly if left unmanaged. The sound of running water or a spraying sound can be signs of a leak and should be tended to as soon as possible.
Water damage from plumbing leaks, drips and squeaks
Checking for the sound of drips or running water in frequently used rooms is important, but don't forget to check for leaks in rooms you don't use very often. Listening isn't the only way to find plumbing leak water damage. You should also look for rust or water puddles. These can appear at the base of your faucets and around sink drains, and in tubs or showers.
Squeaky faucets are another indication that you may have a serious plumbing problem; if your faucets make a squeaking noise when you turn them on or off or if faucets don't turn on or off easily, you may have a problem. Another dead giveaway for leaks is an unusually high water bill. Suspicious spikes in your water bill can be a clear indication of a leak or some other type of plumbing problem.
Chronic puddles or wet spots should not be ignored
It's also a good idea to inspect your home for puddles. Any leaks around toilets, where the toilet meets the floor or wall; or around water heater tanks. Uneven floor tiles around the toilet and water heaters are also a potential sign of a plumbing leak water damage. A hidden chronic leak can cause the wooden subfloor to swell thus distorting the tiles laying on top of it. It's important to know where your water shut off valve is in case of a leak.
Leaks can lead to mold damage
If you have leaks and they go undetected they can cause severe damage to your home. Water is corrosive; it can rust and erode metals as well as weaken wood. Once water damage sets in, it could cost you into the thousands. Not only can it cause structural damage, but it could lead to a potential health hazard if mold starts growing.
Dealing with plumbing leak water damage
Searching for leaks and signs of plumbing problems is one thing, but once you find that you do indeed have a problem, the best thing you can do is call a professional. Soil-Away Cleaning and Restoration Services is a family-owned, IICRC certified company with over 25 years of experience in helping homeowners deal with plumbing leak water damage situations. They'll dispatch competent technicians to evaluate your property and address the issues quickly. Proper cleaning and restoration protocols will be implemented to dry out any areas that are damaged by water and stop the problem before it gets worse. Your home is a great investment, don't let water damage from plumbing problems destroy it! Call Soil-Away at (603) 641-6555 to clean up flood, fire and mold damage the right way.
Written by E. Aceves
Tags: Bow, burst pipe, emergency response, Flooded house, frozen pipes, hidden water, mold, plumbing