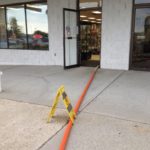 Flood Extraction Services – Merrimack, NH
A local strip mall in Merrimack, NH experienced flooding from the last storm.  Several of the stores had to close due to the water damage. The strip mall property is in dire need of flood extraction services to repair the water damage and reopen the stores for business.
Call Soil Away Cleaning and Restoration Services Now!
The owners of the strip mall wanted to ensure that the flood extraction was done properly by a reputable company.  Recently the owners heard about Soil Away Cleaning and Restoration Services, a New Hampshire-based, family owned contractor that has been in the flood extraction business since 1990.
Soil Away has been deemed highly reputable from neighboring restaurants, businesses, and several of the customers at the strip mall.  Most recently Soil Away has completed a flood extraction at a university in Concord, NH where several have admired the proficiency of the technicians and claimed the university now "looks as good as new."  Better yet, Soil Away offers 24-hour emergency services so that your repairs can take place at any time of day.
Flood Extraction Services – The Process
When the owners of the strip mall called Soil Away, they sent their highly trained technicians with top notch flood extraction equipment.  It was only a matter of time before the crew was able to clean up the damage, restore the strip mall and ensure the owners about how to prevent future storms from damaging the mall once again.  The owners of the strip mall, much like the university and all the other nearby business have gained trust in Soil Away to take care of their property because they go beyond doing the job.  The technicians really care for your business continuity and occupant safety throughout the entire project.
The technicians who came out followed an industry proven process to optimize results for the flood extraction services project:
Customer Calls an Emergency Contact: Call Soil Away Cleaning and Restoration Services at (603) 641-6555
Technicians Inspect: The technicians from Soil Away will come to inspect your business to see where the flood extraction services are needed. This includes moisture meters and infrared camera evaluations to detect any hidden water issues.
Water Removal and Flood Extraction: The removal process begins immediately, once the areas of water damage have been identified. Powerful pumps and vacuum units will be used to quickly remove hundreds and thousands of gallons of water from your property.  Quickly removing the water is crucial, as this will help to prevent secondary water damage and mold growth.
Drying and Dehumidification: For the remaining water that is unable to be removed through the flood extraction, specialized equipment (air movers and dehumidifiers) will be used for complete structural dry-out. Our professionals are trained and will know the proper measurements, temperature, and humidity to determine the appropriate equipment needed to properly dry your building.
Sanitization: All the objects within your property that can be restored will be cleaned and sanitized. Our professionals are proficient at cleaning contents using a broad range of techniques and will provide sanitizing options to deodorize your property.
Restoration: Finally, the construction team will restore your business to its pre-water damage condition. They may have to replace drywall in some areas, install new carpet, and even reconstruct areas or rooms of your business as needed. Our professionals will restore your state of mind, and ensure your business is restored to your satisfaction.
What is Your Disaster Plan?
The owners of the strip mall were smart to call Soil Away right away for their flood extraction services.  If they waited longer, they could have experienced far worse conditions and may have had to shut down the strip mall altogether.  Just think of the effects of the workers and the customers who need to shop for their daily needs.  Don't wait.  If you experience any kind of water damage, call Soil Away Cleaning and Restoration Services at (603) 641-6555.  Don't forget that we also offer fire damage restoration, mold remediation, air duct and carpet cleaning, and smoke and odor removal.
By A. Phelps
Tags: commercial building, emergency services, flood extraction, storm damage, strip mall, structural drying