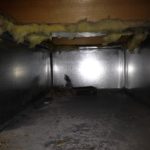 Do I Need Air Duct Cleaning?
Air duct cleaning refers to the cleaning of several heating and cooling system mechanisms of forced air structures. This includes the supply and return air ducts and registers, the heating and cooling coils, the grills, drip pans, and so much more that conduct the flow of air in your home. These components must be appropriately installed, maintained and managed in order for the air system to be free of dust particles, pollen and other contaminates. If moisture is present, there is also a potential for mold. So, what are the benefits of air duct cleaning?
Benefits of cleaning air ducts
There are several benefits. Cleaning your air ducts may help eliminate offensive odors. If you notice that your home doesn't quite smell as fresh as it used to, chances are you need to have that looked at. Air duct cleaning removes contaminates and debris that have settled in your home through the ducts. It can also restore peak energy efficiency. If the air in your home is flowing more freely, you may use your air conditioning less (in the summer months) and heating less (in the winter). This could save you quite a bit of money on the long run. It can also extend the life of your HVAC system and components. Cleaner air ducts can also reduce the potential for mold growth, which can benefit those with mold allergies and asthma. Even those who have an allergic reaction to dust will benefit from the cleaning.
Knowing if and when you should have your air ducts cleaned
Air duct cleaning is not always necessary and should be done only if the ducts and HVAC units are contaminated. Some reasons to have your air ducts cleaned are:
If your home has recently been renovated or remodeled, especially if there was asbestos, or lead paint removal or if the renovation created a large amount of dust (sealing off air ducts during renovation should prevent this from happening).
If your home was infested with animals who are living or nesting in your ducts
If there is the presence of mold
If a family member is suffering from an unexplained allergy
If the property has sustained fire or water damage
If you are moving into a new home and the seller has no records of previous cleaning or maintenance
Hiring a professional air duct cleaning company
While HVAC cleaning isn't always top of mind, if you haven't had it cleaned in several years or have experienced any of the above issues, by all means, have them looked at by a professional. Make sure the professional you choose cleans all components. Failure to do so could result in recontamination of the system. To make sure you're in the clear from dirty or contaminated air ducts call Soil-Away Cleaning and Restoration. With over 25 years of service in the New Hampshire area, Soil-Away not only has all the equipment to do a thorough cleaning of your ducts it also has a NADCA certified team. Contact Soil-Away at 603-641-6555 for a complete air duct cleaning, then take a deep breath. I'm sure you'll notice a difference.
Written by E. Aceves
Tags: Air Duct Cleaning, HVAC Cleaning, IAQA, IICRC, NADCA